SCORE Card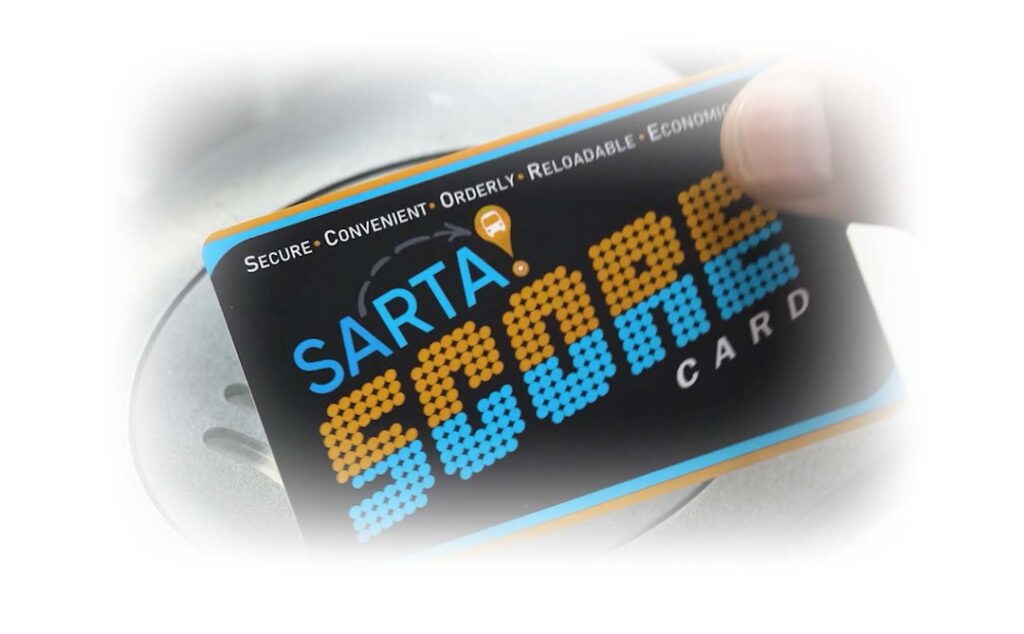 The SARTA SCORE card offers a secure and convenient method of payment as you ride. By CREATING an account and REGISTERING your SCORE Card online you enable an extra layer of protection if your card is lost or stolen.
You can load your SARTA SCORE card with passes or stored cash value to be used on ALL SARTA Services by signing into your account on a desktop, laptop, or smartphone. You may also load your card with any SARTA Customer Service Representative by visiting your nearest SARTA transit center.
When paying your fare on SARTA services, just tap your card once (multiple taps will charge multiple fares) on the farebox and you're good to go!
If you have any questions call SARTA Customer Service at 330-477-2782, Option #2.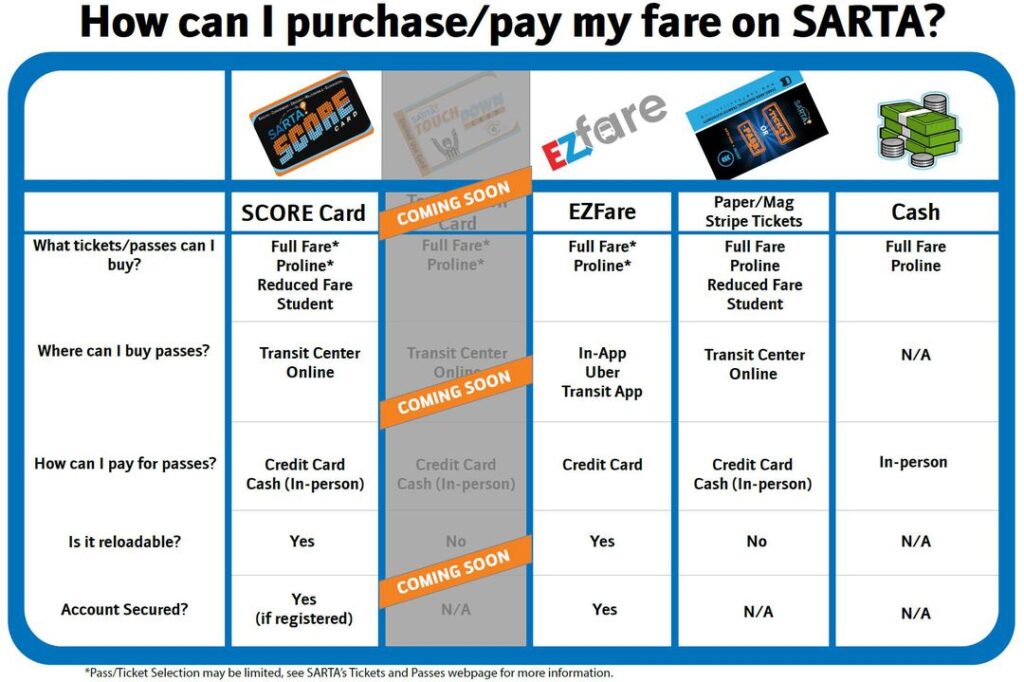 What is a SCORE Card?
A fare payment option offered by SARTA. The SARTA SCORE Card is one of two tap cards that SARTA offers. It is a Secure, Convenient, Orderly, Reloadable and Economical smart card that allows you to 'tap' and pay your fare when boarding the bus.
What are the benefits of a SARTA SCORE Card?
When registered, it enables an extra layer of protection if your card is lost or stolen.
It can be loaded conveniently online with passes, tickets, or stored cash value.
Transfers are embedded in the card when they are tapped.
How much does a SARTA SCORE Card cost?
SARTA SCORE cards are provided at no cost. Once a rider purchases fare or puts monetary value on the card it can be used on SARTA vehicles. The SARTA SCORE cards are reloadable so should not be disposed of once fare has been spent.
Where can I get a SARTA SCORE Card?
You can purchase, register, and reload your SARTA SCORE Card online or with any SARTA Customer Service Representative at a SARTA Transit Center.
Will I still get a paper transfer?
No, Transfers will be embedded into the SCORE card when it is tapped.
How do I use a SARTA SCORE CARD?
Once the SCORE CARD is loaded with fare or monetary value, just tap your card on the card farebox and proceed to your seat.
What happens if my card is lost or stolen?
If your SCORE card is registered, you can have your card deactivated and the balance transferred to a new SCORE Card.
If you have not registered your SCORE card, you will lose all passes and balances loaded to that card.
Do I have to register my SCORE Card?
SCORE Cards do not have to be registered if you are using full fare. However, it is highly recommended to protect your card balance if it is lost or stolen.
Registration is REQUIRED for Reduced, Proline and Student riders.